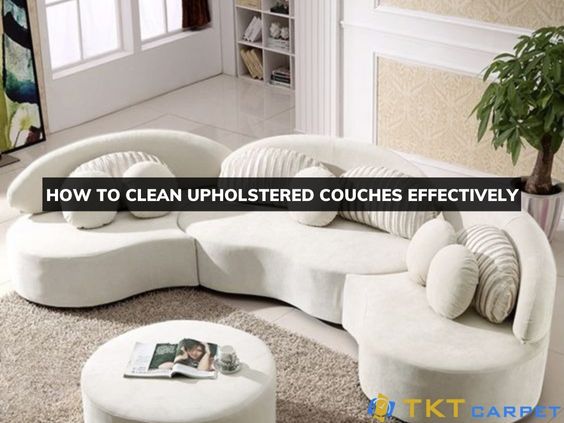 HOW TO CLEAN UPHOLSTERED COUCHES EFFECTIVELY
November 25, 2022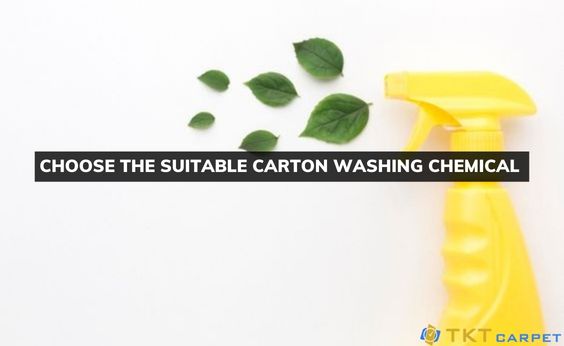 Top 3 Carpet Cleaning Chemicals 100% Safe for User's Skin
March 23, 2023
📅 Updated Article "Choosing the best office chair material" last time on March 8, 2023 at TKT Carpet Cleaning Company
Currently there are many office chair materials with different durability and comfort. There are all kinds of materials from plastic, to plastic or leather, leatherette, felt fabric, mesh … Therefore, users before choosing not only based on the price but also the needs of use, working environment to choose the right chair material, durable and clean. Choosing a beautiful office chair not only avoids common spinal diseases, but also helps you feel comfortable and confident at work. Because TKT Carpet will share some knowledge about office chair materials so that you have the choice that best suits your needs.
1. The Importance of Choosing Office Chair Material
Nowadays, office chairs are indispensable items at the offices of businesses and companies. This type of chair is mainly designed to sit and work at desks and offices. It not only serves the purpose of sitting but also has a structure suitable for the user's physical condition and environment. Office chairs can be combined with folding tables and folding tables at the office to create convenience for office space. This will save space and meet the needs of relaxing rest at work
The selection and search for good office chair materials, durable quality and chairs must possess modern and comfortable designs to meet the needs of use. At the same time, it adorns the beauty of the office, so that it suits the feng shui workplace of each company, each business,….
Depending on the overall interior design of the whole office, users choose the right office chair material. The colors are harmonious but must show professionalism for the workspace. Office chair material not only needs comfort for users to work efficiently, but also should be easy to clean and clean.
2. Office chair materials
2.1 Leather seats
This is the most popular chair line today. When it comes to luxury, office leather chairs are one of the top choices of many office workers, because it brings professionalism to your workplace. Leather material creates a luxurious look, showing the class of the user. Thanks to its aesthetics, smoothness and durability, leather is used by many people.
A genuine leather office chair offers timeless elegance and elegance with an eye-catching look and soft texture. Classic leather can be found in many types of office chairs, such as director chairs and work chairs that can be adjusted to the intended use. If you want to invest in a beautiful office chair that stands out, is comfortable, durable and easy to clean, then a genuine leather office chair is a smart choice. One thing to remember when buying a leather office chair is that it may not be as breathable as woven office chairs.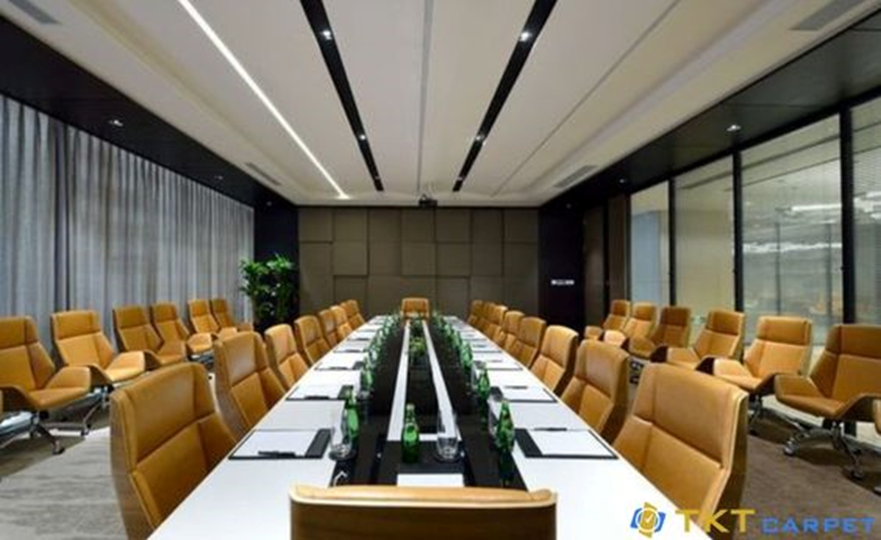 Advantage:
Brings elegance and professionalism
High durability and can last for many years
Comfortable and comfortable to use
Easy to clean during use
Shortcoming:
More expensive than other types of office chair materials
Needs meticulous cleaning to avoid damaging the surface of the skin
Sanitary chemicals with acidity and high pH levels cannot be arbitrarily used.
2.2 Faux leather seats
Are you looking for a luxurious yet affordable office chair material? So leatherette material is a perfect choice. This is an industrial leather that should be suitable for private office space and as a director's swivel chair. The leatherette material imitates the look of real leather but is sold at lower prices that are suitable for many people's economy. Unlike real leather which is usually made from real cowhide material. Imitation leather or synthetic leather is made from PVC or PU material with many impressive colors and designs.
Leatherette material is also easy to clean and store. In case of accidental spillage of coffee, you can easily wipe your leatherette chair with a towel, and the stain will disappear. However, fake office chairs are less durable than real leather chairs. But synthetic leather is a better vegan alternative than real leather chairs made from animal skins.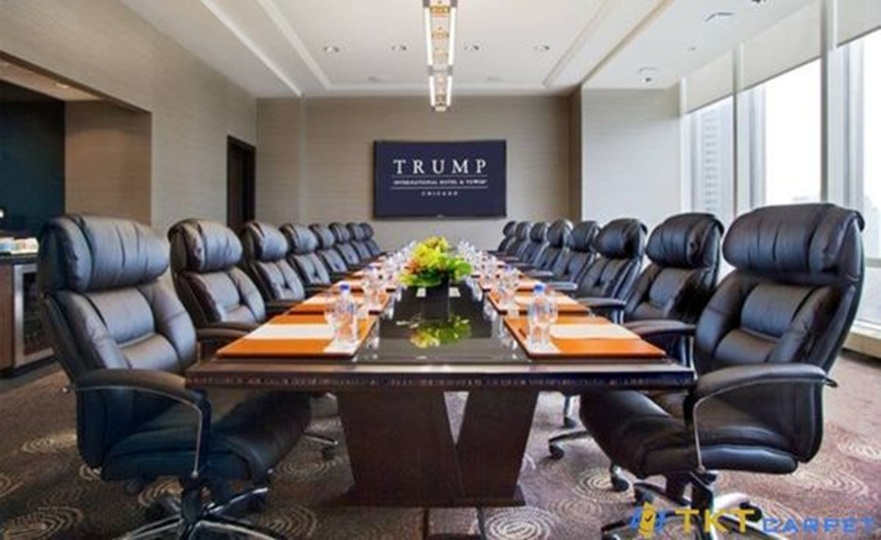 Advantage:
Beautiful and delicate leatherette material like the real family
Lower prices than real leather seats
Rich color variety
Easy to clean
Shortcoming:
Not as durable as real leather
Poor durability
Doesn't feel exactly like real leather
2.3 Breathable mesh seats
If you are wondering which office chair material is good, then mesh material will be the best choice for you. Because sitting for long hours can be very hot, confusing and uncomfortable. Especially during the summer and your office chair is made from heat-retaining materials. The mesh material is made from an open textile material that allows air flow freely around your seat. Create airiness for users and help limit skin diseases
An outstanding advantage of office mesh chairs is that the back of the chair is designed in the form of a grid to create elegance and novelty for the working space, comfort and comfort in the back for the occupants. The mesh is also flexible, so it can be easily hugged close to the back when you lean against the backrest.
If you prefer a more subtle option, don't worry. Mesh chairs are now offered in a wider range of styles and chic styles that you will surely love.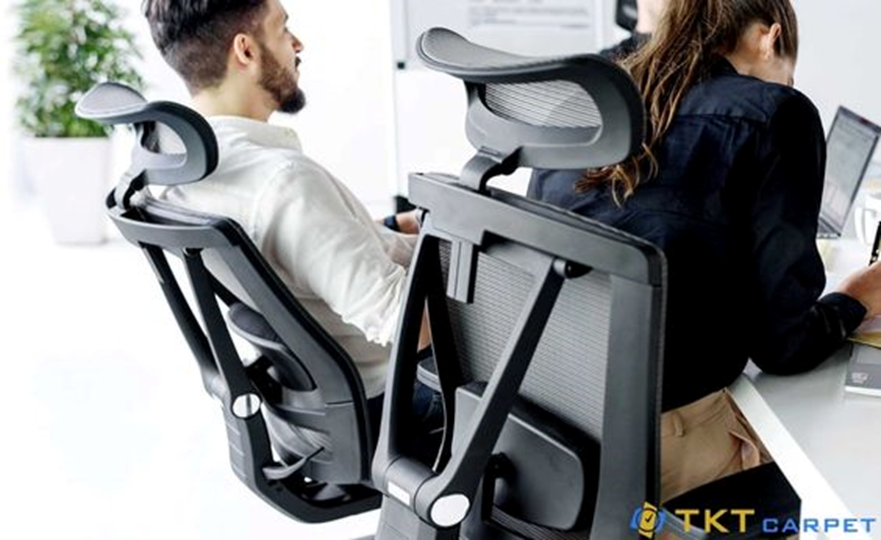 Advantage:
Very breathable and flexible
Suitable price
Provides excellent postural support
Create airiness to limit skin diseases
Easy to clean and store
Shortcoming:
2.4 Fabric seats
Office chairs are traditional materials offered in a variety of styles and colors. These can bring freedom of style to your office. Some popular office chair upholstery fabrics include linen, vinyl, chenille, and polyester. Velvet and cotton office chairs are two examples of durable fabric office chairs and are also extremely comfortable. Fabric office chairs have a variety of prices from cheap to expensive depending on quality and design.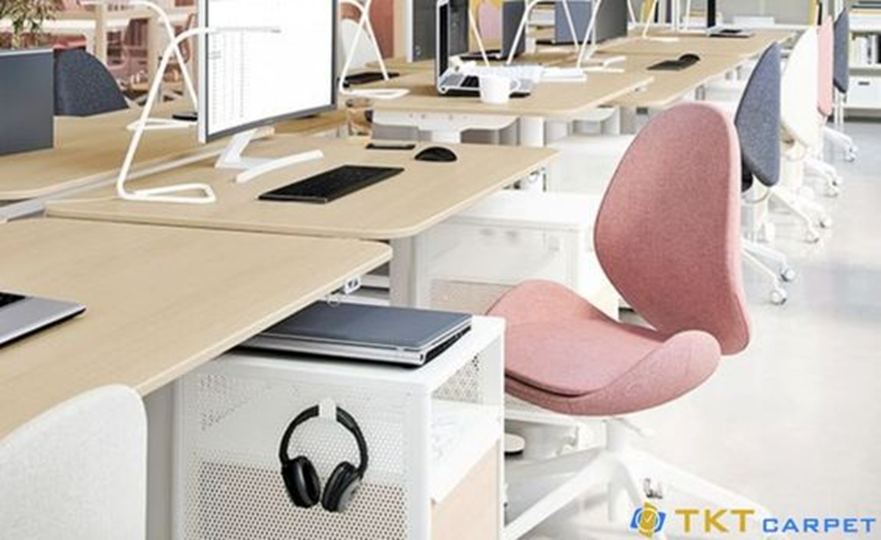 Advantage:
Variety of colors and models
High durability
Very smooth and comfortable
Affordable price
Shortcoming:
Prone to dirt and difficult to clean
Summer will feel hot because it is not breathable
2.5 Felt seats
Seats upholstered in felt material are also chosen by many people. Because the advantages of this chair are diverse colors and high durability. The felt material upholstered on the outside of the foam cushion makes the chair eye-catching, square and when sitting feels solid and comfortable. In particular, chairs from this material are not too expensive, so they are suitable for many people. However, this material will cause the seater to feel hot and squash in summer. Felt fabric is durable and ensures a stable sitting position for the user. Chairs made from this material are often used a lot in meeting rooms.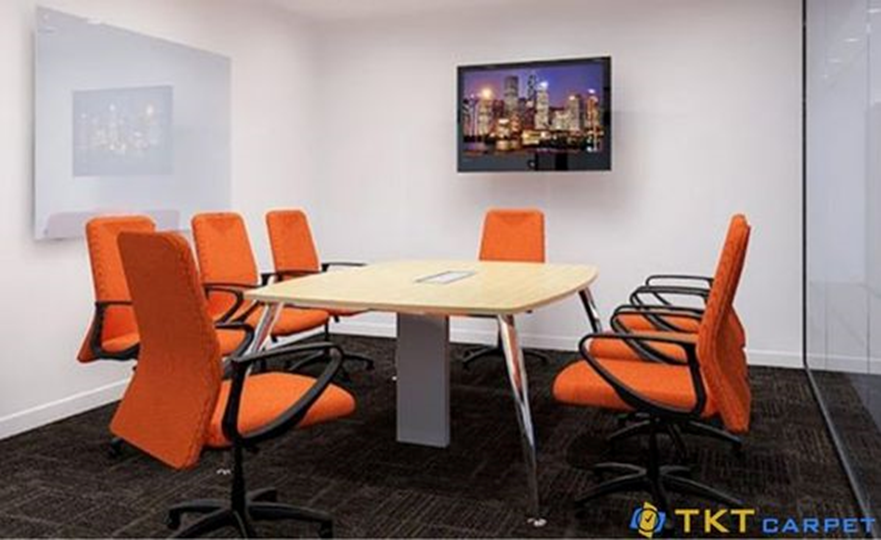 Advantage:
Cheap price
Variety of colors
Feeling sure and comfortable
High durability
Shortcoming:
Summer will feel hot and squash
Difficult to clean when dirty
2.6 Multipurpose plastic seats
Like fabric office chairs, plastic office chairs also come in a multitude of styles and colors. They are affordable and easier to clean than many types of office chairs. They are also relatively durable and recyclable. However, unlike other work chairs, plastic chairs do not have adjustment features.
Many standard office chairs have some durable plastic parts for bases and armrests. Thankfully, these components are specially made from premium materials to ensure their optimal comfort and durability.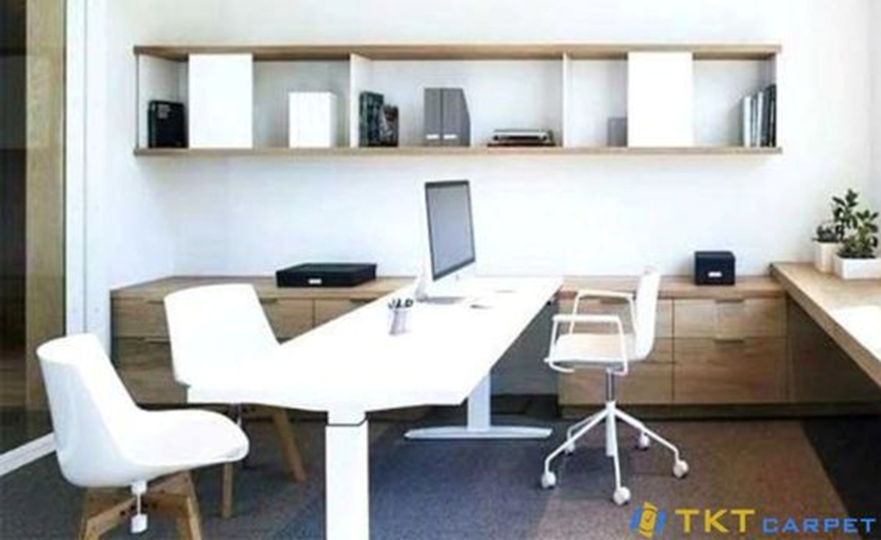 Advantage:
Diverse, rich and extremely eye-catching colors
Cheaper than other materials
Easy to clean
High durability
Shortcoming:
Slightly stiff and uncomfortable like other materials
3. Guide to choosing office chair material
You'll spend an average of 40 hours a week sitting in your office chair. That's why it's important to choose a comfortable chair so that you focus well on your work. When buying an office chair, choose one that suits your desk and your intended use.
Choose comfortable materials
Comfort is key to ensuring your health and productivity. When choosing an office chair material, choose one that is leather safe and breathable to sit on. Since your body will be in contact with the chair for a long time, it is important to choose a hypoallergenic office chair material.
Prioritize durability
Think of your office chair as an investment in your health while working. Since this is an investment, it's important to choose an office chair that can stand the test of time.
Choose materials that are easy to clean and maintain
Besides durability, it is important that the office chair material is easy to clean and maintain. So you will not need to spend too much time and money when accidentally dirtying them.
4. Experience in choosing the right office chair
Currently, office chairs are divided into 2 types: swivel chairs and non-rotating chairs. Accordingly, when you need to use a chair with high flexibility, you should choose swivel chair models. Because the product possesses many superior features when it can rotate many angles and customize the height to suit the user.
Choose office chairs that match the characteristics of the job
Depending on the area as well as the working position, you will choose the most suitable office chair. Accordingly, for the position of president and director, you should choose a leather swivel chair. A chair model is made from high-quality leather and has wheels, so it helps leaders show their class more.
For office areas for employees, you should choose chairs that are designed to be flexible such as felt swivel chairs or simple mesh. Thereby helping employees to comfortably focus on working to complete the assigned tasks better.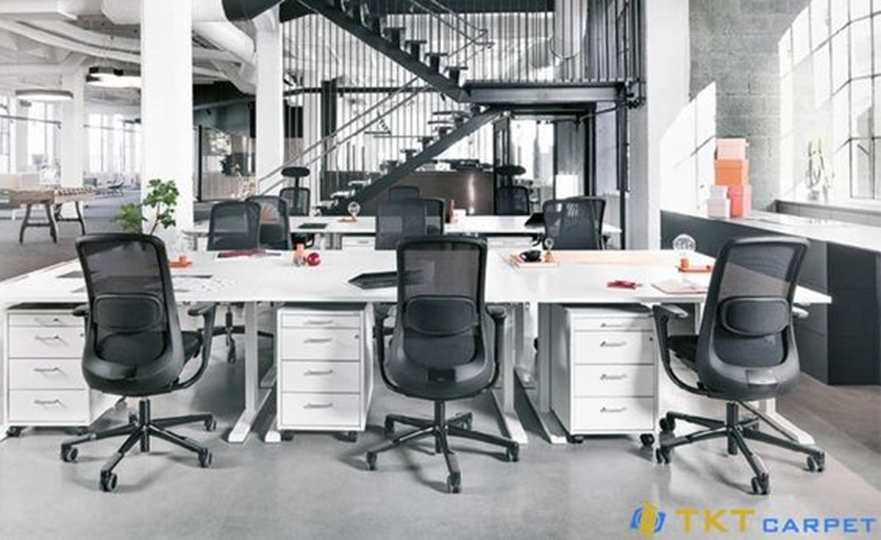 Choose the right seat back style
High-backed chair: designed to support the entire back should be reserved for the director's chair in a private office.
Mezzanine back chair: the type of chair suitable for the office space of employees.
Low-backed chair: a type of chair for crowded offices.
Choose an office chair with an elegant design
You should choose chairs with elegant design and harmonious colors to show the professionalism of the user. Specifically, the director's chair should choose black and brown to create class. And office workers should choose bright colors to help them focus better.
Choosing office chairs according to economic conditions
Seat price from 800 thousand to 1 million VND: serving the needs of using seats alone.
Seat price from 1 million to 3 million VND: belongs to the mid-range price segment. Meet the needs of use well and do not make you ache after a long sitting time.
The price of seats is over 3 million VND: it is a high-end chair line, so it is suitable for leaders.
Choose office chairs with reputable brands
You should buy office chairs from reputable brands to ensure that you buy products of high quality standards. There is a good certainty and warranty to ensure your rights.
5. Conclusions
It is important to carefully choose the material when owning an office chair. Your choice of materials should suit your needs and aesthetic preferences as you will be using the chair for a very long time. If you have intended to buy a new office chair, read this article by TKT Carpet carefully to make the right, most appropriate and perfect decision.
6. You may be interested

09.38.17.22.94
Công ty dịch vụ giặt thảm TKT Carpet®
Trụ sở: 83 Nguyễn Du, Phường Bến Nghé, Quận 1, Thành Phố Hồ Chí Minh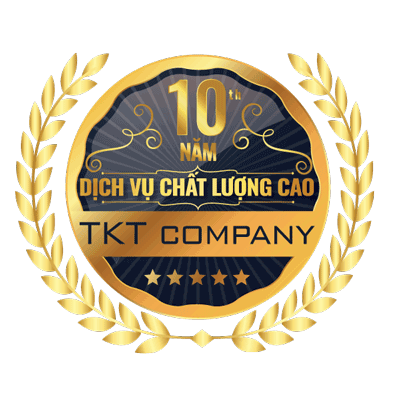 Website:
https://tktcarpet.com/
Nguồn: Công ty giặt thảm TKT Carpet