1
Best price Carpet Cleaning
we're committed to bringing the bestest price on the market
3
10 years experience
Over 10 years of experience, we confidently clean all types of carpets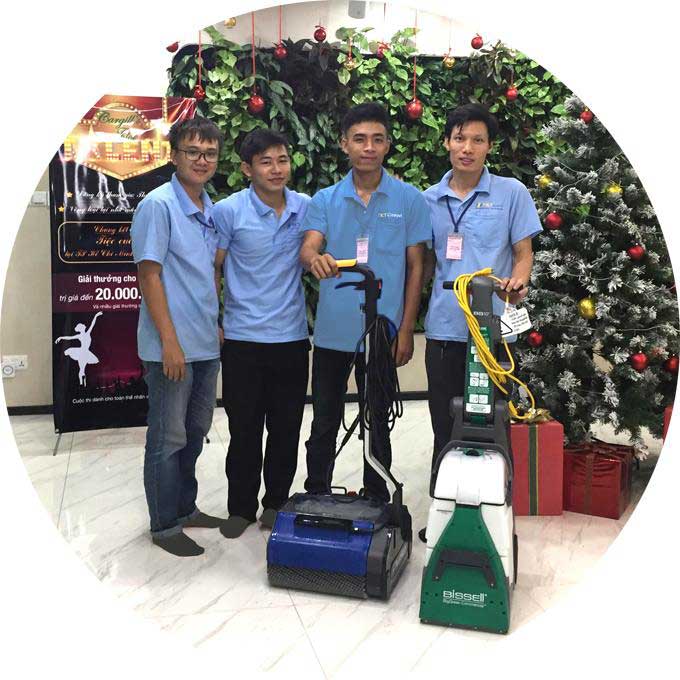 2
100% Satisfied to pay
Client only pay when 100% satisfied with the carpet cleaning service of us
4
Modern technology
We always research and apply the latest Carpet cleaning technology every year
Customers of TKT Carpet
Why TKT Carpet is the best choice of thousands of offices, companies and families. That's because customers feel our enthusiasm and professionalism in providing carpet, chair, sofa, and curtain cleaning services.

DISCOVER
---
No.1 Green carpet cleaning technology from Japan
Provide solutions to clean dirt, bacteria and mold according to biotechnological methods
office carpets, decorative carpets, floor mats, office chairs, sofas, mattresses, cushions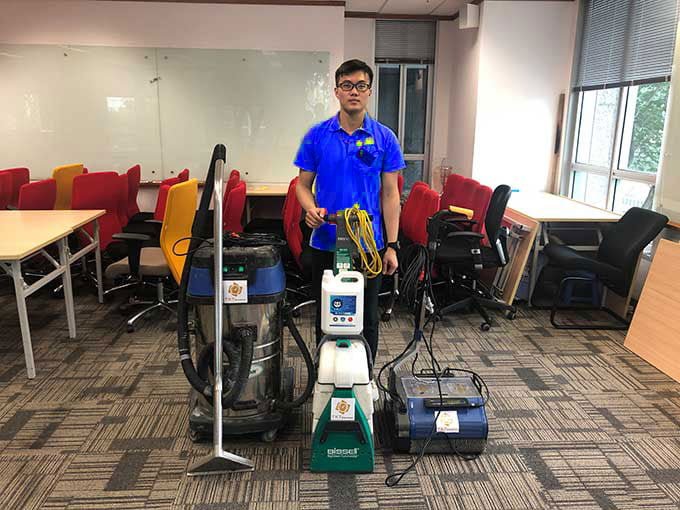 Interesting figures about TKT Carpet company
We are proud to be one of the leading carpet, chair, sofa, mattress, curtain, mattress cleaning companies in Ho Chi Minh City for the past 10 years.
300
Project completed in 2020
---
40000
m2 of carpets cleaned in 2020
---
6 strong points that make a difference of TKT Carpet company
These are the golden commitments we give to all customers who use carpet, chair, sofa, mattress (cushion), curtain cleaning service.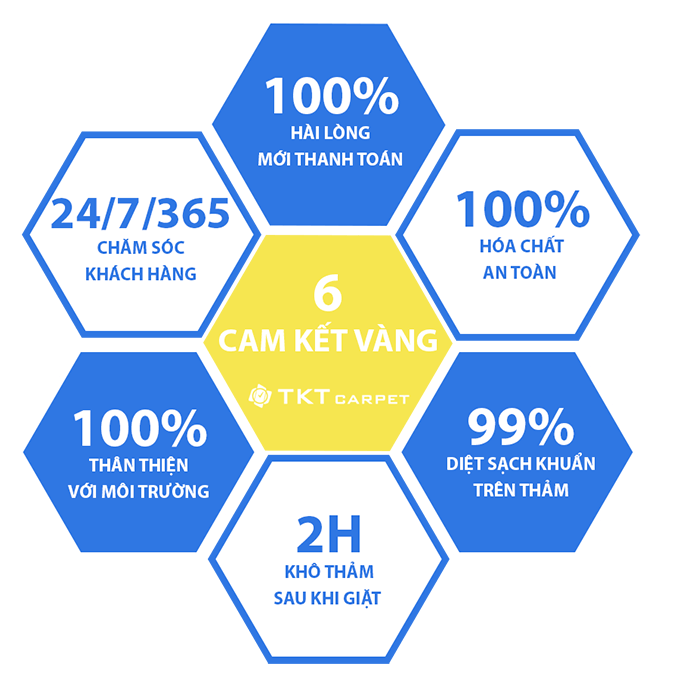 1 Pay only 100% satisfied
Ready to redo, fix, solve any arising.
2 100% safe chemicals even for babies
Japanese Green Technology is safe and gentle on baby's skin.
3 99.9% kill surface mold bacteria
Kill bacteria, yeast, mold up to 99.9%, prevent Covid-19.
4 2h Dry carpet can be used
The fastest dry carpet cleaning technology today is only 2 hours.
5 100% Environmentally Friendly
Residual chemicals are 100% degradable, saving mother earth.
6 24/7/356
Care, consultation, quotation, settlement arising at any time.
Service delivery process
Please refer to the service implementation process between TKT Carpet & Customer below so that you can receive the best support from us.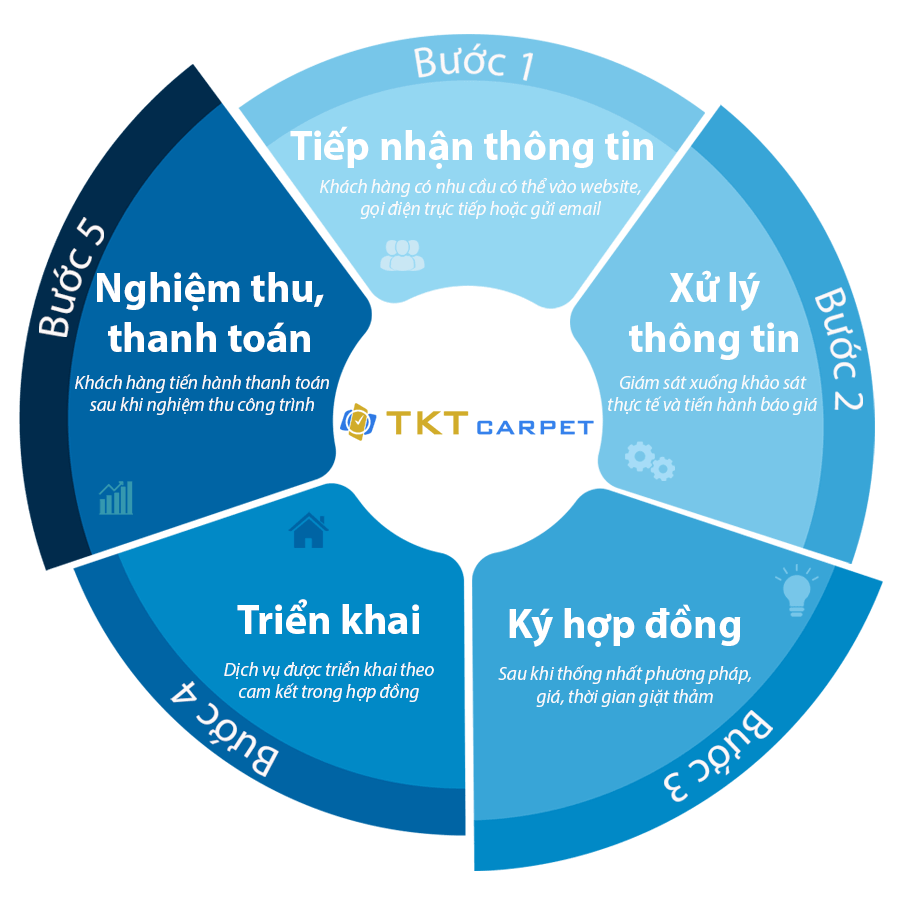 5 steps to help you get the best carpet, chair, sofa, curtain, mattress cleaning service
Step 1: Receive information
All customer requests via phone, email, chatbox, fanpage, social... are handled by us within 8 working hours at the latest.
Step 2: Process information
TKT Carpet's supervisor will contact to advise, quote Online for customers, or schedule an appointment for survey and consultation at the construction site. We always want our customers to receive the most complete advice.
Step 3: Sign a service contract
After the two parties agree on: implementation method, service price, working time, we will send a contract or an authentic quote to the Customer. Contract is signed.
Step 4: Deploy the service
According to the service contract and service contract, the implementation time will be properly implemented. Any change from the customer needs to notify TKT Factory 1 working day in advance so that we can serve you the most attentively.
Step 5: Acceptance and payment
After the service is performed, please check and confirm in the minutes. We always promise to only receive payment when you are 100% Satisfied.
Video of TKT Factory's service experience
Video of TKT Factory's carpet cleaning, chair, sofa, mattress, curtain, cushion cleaning service is fully posted at Youtube Chanel: TKT Carpet
Request a consultation
---
Please send us your request and we will get back to you shortly
History of TKT Carpet Company
Summary of 10 years of establishment and development of a company specializing in carpet cleaning, washing chairs, sofas, mattresses, cushions, curtains TKT Carpet
2011Open a company

The company was founded from a group of young people who love cleaning and sanitation.

2012Company orientation specializing in carpet and chair cleaning

After 1 year of establishment, the company oriented to develop a small, niche but important market in the industrial cleaning industry that is cleaning carpets, chairs, sofas, cushions (mattresses), curtains for the office.

2013Expanding the target audience

Seeing the need to clean carpets and chairs not only for companies, offices, businesses but also many other objects such as restaurants, hotels, wedding conferences, shopping malls, families, yachts, etc. ship... the company expands its activities to all objects of need.

2015The first hot steam carpet cleaning in Ho Chi Minh City

Cooperating with the leading supplier of hot steam carpet cleaning equipment in Europe, TKT Carpet has improved the quality of carpet and chair cleaning services for high-end customers.

2017Cleaning the first Green technology carpet in Ho Chi Minh City

Cooperating with the No. 1 Green carpet cleaning technology supplier in Japan, TKT Carpet first deployed the service in Ho Chi Minh City, contributing to raising customers' awareness of environmental protection. They are very pleased to have an extra choice

2021The first 4X power carpet cleaning in Ho Chi Minh City

TKT Carpet cooperates with Europe's leading carpet cleaning equipment supplier, deploying a new high-class carpet cleaning service, 4X super clean carpet cleaning. Meeting the increasing needs of customers