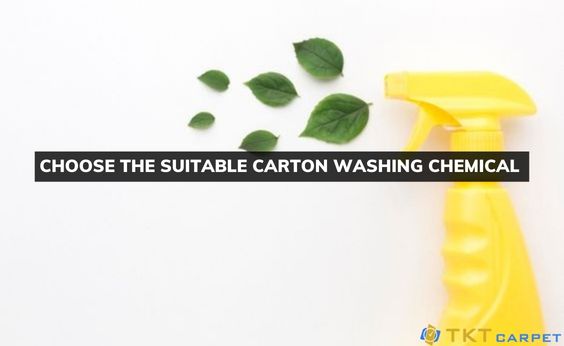 Top 3 Carpet Cleaning Chemicals 100% Safe for User's Skin
March 23, 2023
📅 Last updated "Guide to choosing the best sofa" article March 16, 2023 at TKT Carpet Cleaning Company
Fabric sofas are one of the interior items in the home, cafes, office spaces,. . . chosen by a lot of people. With the advantage of both beautifying the living space and helping to create smoothness, relaxation and comfort for users after tiring working and studying days. However, not everyone can know how to choose a beautiful sofa style that suits their living space. As well as not knowing how to use it, after a period of use, the seat quickly deteriorates. Therefore, TKT Carpet article will share sofa problems for people to have more experience choosing the best sofa. As well as knowing how to use, maintain and clean the sofa more properly.
1. What is a fabric sofa?
A fabric sofa can be a 1-seat, 2-seater, three, four-seater couch. This is a piece of furniture made of many different fabrics. Both natural and synthetic, and known for its unprecedented warmth. A fabric sofa has soft upholstery, luxurious cushions, supporting springs. And the frame has evolved in style over the years.
With so many fabric sofa options on the market, it can be really difficult to find one that suits your taste. So it's important to narrow down your choices based on the type of fabric. Design preferences and your practical needs.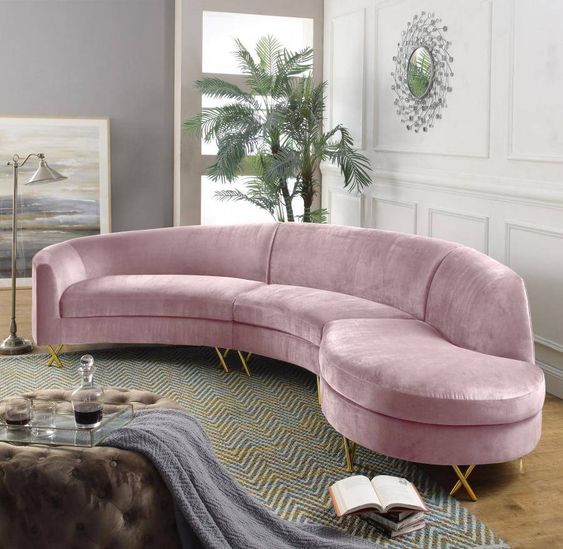 2. Guide to choosing the best sofa
On the sofa market there are a wide variety of designs, designs, colors and materials. As well as other pros and cons chew. With a variety of models, users have many choices to meet their preferences. However, that will make us confused about which chair style to choose for the space. As well as there are many poor quality sieves that make customers confused when choosing. So when choosing a sofa, we need to keep in mind some of the following:
2.1 Choose the right sofa for the size of the room space
When choosing a sofa, you need to determine where to place the chair. As well as the area of the room, from which to choose the right sofa size. Do not choose a sofa that is too large because it will take up all the space. And the size of the sofa affects the structure, layout and aesthetics in the room. If you choose a sofa that is too big, it will easily make the space feel cramped and uncomfortable. And if you choose too small a seat, it makes the space feel disjointed and unbalanced. Directly affect the aesthetics of the entire room.
2.2 Sofa upholstery material
This is one of the important factors that directly affect the price of sofa tables. Because currently the sofa has many different upholstery materials such as velvet, felt, genuine leather, fake leather ,. . . Each type will have different outstanding features. So, depending on the preferences of each person as well as the economic conditions of each family. To choose the most suitable upholstery material for your living space.
Natural fabric sofa
Natural fabrics are made from natural materials, such as animal skin, plants or minerals that create fibers. The fibers are woven together to create a durable and flexible fabric.
Cotton fabric sofa
Cotton is one of the cheapest materials. Most commonly used for upholstered chairs. Cotton fabric is chosen by many designers and homeowners. Because of its soft properties, good absorption, easy color scheme and diverse patterns. However, due to the same properties, cotton fabric is prone to yellowing.
Linen sofa
Compared to cotton, linen has a looser weave, giving the fabric a more striking texture. This is perfect for lovers of modern or contemporary styles. People who prefer to add colors and textures to their designs instead of leaning towards more complex patterns and builds. The disadvantage of linen sofas is that they wrinkle quickly, so they need thorough maintenance.
Leather sofas
As a luxury material, genuine leather sofas are appreciated by generations for their sophistication and timeless durability. The skin is very noticeable and easy to maintain. If you are looking for a perfect item to display. You can always count on a genuine leather sofa. If you're looking for something on a tight budget. Choose a leatherette couch that mimics the feel of the genuine kind.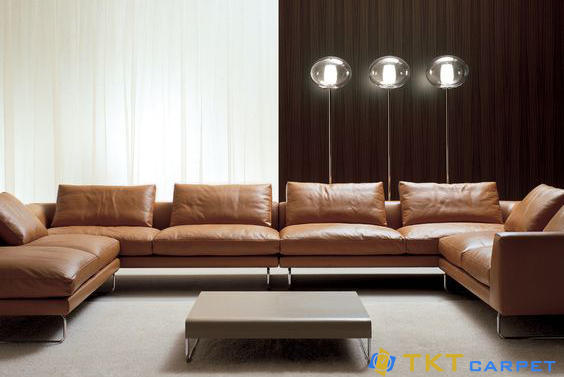 Silk fabric sofa
Speaking of luxury, another striking sofa material is silk. If you decorate the interior of an adult space, you can rely on the beauty of the fabric. The silk sofa is smooth, vibrant and luxurious. Keep in mind that this material is more expensive than other sofa materials and requires careful use and maintenance.
Synthetic fabrics
Synthetic or manufactured fabric sofas are created from chemical polymers that mimic the feel of natural fibers. In addition to faux leather and velvet can be created from synthetic fibers. These are some of the manufacturing materials used to create sofas
Microfiber sofa
Microfiber is a common synthetic material used to make sofas. It is a good polyester that gives a cozy, silky feeling. Its fibers are very thin, which gives a feeling of suppleness and durability. It is stain-resistant and budget-friendly.
Sofa nhung
The velvet sofa set is smooth, lavish and luxurious. Its unique build makes the texture one of its best-selling points. Velvet is easier to preserve than silk, so if you want something that stands out but is easier to store, velvet is a good choice.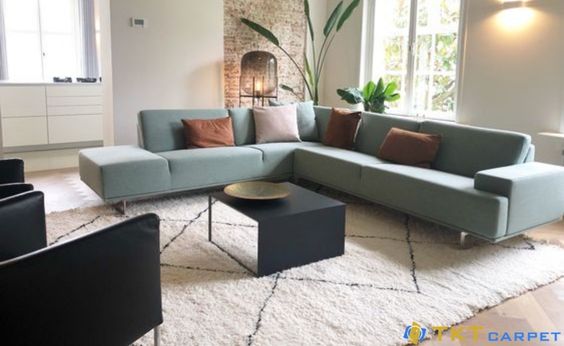 Polyester fabric
Polyester is known to be a budget-friendly option. Used for upholstering clothes or furniture. This is often used with other materials. Like microfiber to avoid staining and wrinkling, which is easy to happen with polyester.
Nylon
Although rarely used alone, nylon is mixed with other fabric sofa materials. Aimed at improving their quality and durability.
2.3 The sofa design must be in harmony with the living space
Currently, consumer demand is increasing. Requires sofa styles to also be transformed and updated many different styles. To meet that demand of customers, currently on the market, sofa models have had many changes with more designs and designs from set sofas, sofa benches, corner sofas, single sofas, L-shaped sofas, smart sofas,. . . Each type includes a variety of colors, materials, sizes. So everyone will absolutely choose the right design for their area and living space.
However, it is also necessary to pay attention to choosing a beautiful sofa style that must match and harmonize with the home space. Especially from the color, the style must match the style of the room to create a complete whole. For example, the style of your room is classic. But does choosing a modern-style sofa sound unreasonable? Think carefully to make your living space more perfect.
2.4 Color consistency with the interior of the room
Color is a factor that greatly affects the overall space of the room. Currently, there are many beautiful sofa models for people to easily choose the chair color according to their preferences. However, it is necessary to pay attention that the color of the chair must be similar and consistent with the color of the interior space of the room.
Usually, with spaces decorated with light colors. Often will be suitable for chair models with natural dark colors such as brown black, black, gray ,. . . Easy to create a highlight for a more perfect room. On the contrary, with the desire for my living space to be younger and more modern. You can choose chair styles with bright colors such as blue, red, pink, . . would be most suitable.
2.5 Check the quality of the seat frame
A lot of people when buying cheap beautiful sofas often do not pay attention to this feature. While a quality sofa table and chair set requires a sturdy chair frame. Made from high-quality wood material with effective resistance to warping, termite resistance during use.
To be able to check the firmness of the sofa frame is good or not? Shake the seat frame slightly or sit up and bounce hard to see if there is a noise. If there is a creaking sound, it should not be chosen because the seat frame does not guarantee quality.
2.6 Check the seat mattress
For sofa sets, the seat mattress is very important. Although it is wrapped on the outside with fabric upholstery. But this is the part that helps create smoothness, comfort and comfort for the occupants as well as create the form of the seat. For a quality chair set, the seat mattress must be made from quality foam. Resistant to fire and difficult to collapse during use.
People can sit directly on the chair for a few minutes, moving their body continuously. See if the chair feels comfortable and comfortable to sit on? Only a direct test sitting can most accurately feel the quality of the chair cushion.
3. Note sofa maintenance to increase durability
Even if you choose the best sofa but not properly maintained, cleaned and cleaned, it will still spoil in a short time. Especially, with a hot and humid climate in Vietnam, it is easy to make leather sofas or felt affected and reduce quality. Therefore, in order for your sofa to always be durable and beautiful over time, we need to pay attention to proper cleaning and cleaning. And here TKT Carpet will share some secrets to make your sofa more durable over time.
3.1 The chair should not be placed in the direction exposed to the sun
When placing the seat, it is not recommended to set the direction of direct exposure to the sun. If exposed for a long time, it will easily reduce the quality of the seat such as the seat frame is warped and cracked. As well as causing the seat mattress to quickly flatten, quickly deteriorate seriously.
In addition, for sofas made from leather material, the outer leather quickly deteriorates. And felt fabric quickly fades, easily tears if exposed to direct sunlight for a long time.
3.2 Control humidity to avoid mold
Humidity is a factor that greatly affects the durability and quality of the seat. From fabric or felt that even directly affects the wood in the seat frame. If the humidity is too high, then the chair is easy to blister and easily cause bacteria to accumulate in the seat. Make a big impact on the quality of the sofa. In case the humidity is too low, the seat surface is prone to cracking and warping, making the seat susceptible to damage
So, to be able to preserve the sofa always durable. It is recommended to use a dehumidifier to be able to ensure that the humidity of the air does not adversely affect the quality of the sofa, as well as the health of people themselves.
3.3 Do not use harsh cleaning chemicals
This is one of the important notes when using the sofa. Absolutely when cleaning the sofa should not use aggressive detergents. Because they only have an instant cleaning effect but have long-term consequences. The effect on the seat material quickly deteriorates or fades and reduces the life of the seat
If hygiene products are used, specialized products should be used to clean the sofa for leather or felt fabric. However, as limited as possible the use of cleaning chemicals, use them only when necessary.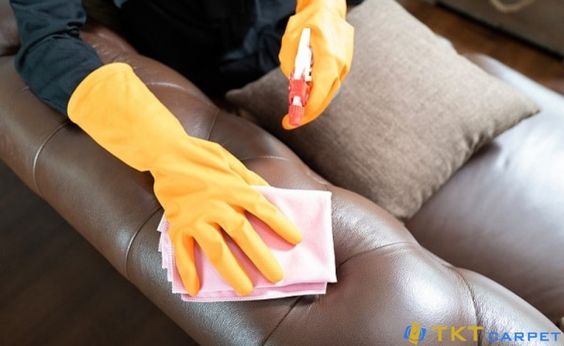 3.4 Do not leave sharp objects on the sofa
During use, absolutely do not leave sharp objects such as pens, knives, scissors ,. . . Direct contact with the surface of the chair. Just prevent damage to the quality of the seat. Just avoid directly affecting the health of users, especially young children.
Also, avoid chemicals such as grease, pen ink, cosmetics, . . . Stick to the sofa so as not to affect the quality of the chair. If it gets on the chair, it needs to be cleaned as soon as possible.
3.5 It is recommended to vacuum the sofa regularly
To help the living room sofa always durable and increase the service life. It is recommended to regularly vacuum the seat from the seat, armrest, backrest and especially in the seat slots and also the padding. In addition, it is possible to combine vacuuming the seat and cleaning with a clean damp cloth to wipe it will make the seat much cleaner.
However, for leather seats, do not use a damp cloth to wipe too much, which will affect the quality of the leather. As for felt sofas, it is possible to use seat upholstery to protect the mattress. Not only creates safety when using, easy to clean but also creates newness for the room.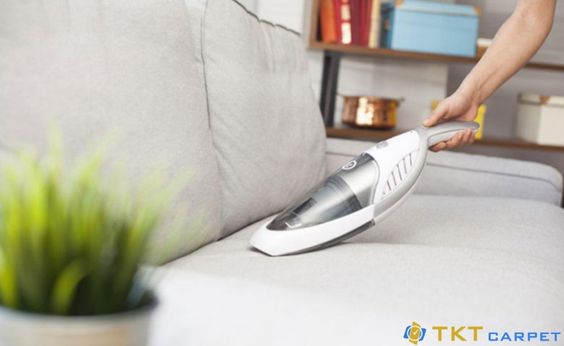 3.6 It is recommended to use sofa washing services
Using a chair washing service will ensure 100% of your chair will be properly cleaned and avoid problems that will damage your seat. If you have no experience cleaning the sofa, simply vacuum and clean the outside of the chair surface. Thus, dirt and bacteria can still stick deep inside the seat. And washing the sofa will be very time-consuming and laborious if you do it yourself and do not guarantee that the chair will be 100% clean
Therefore, using a sofa washing service will help you solve all the above problems. With more than 10 years of experience, TKT Carpet provides home sofa washing services and has satisfied more than 5000 customers. Using modern technologies, the most advanced imported machinery and ecosophy chemistry from nature, environmental protection, all these things have created trust from customers. 100% deep cleaning technology removes all stains, odors and pathogenic bacteria. TKT carpet is always ready to advise and provide detailed prices for all customers.
Contact hoteline immediately for further advice and assistance from our staff with information about sofa washing services.

4. You may be interested

09.38.17.22.94
Công ty dịch vụ giặt thảm TKT Carpet®
Trụ sở: 83 Nguyễn Du, Phường Bến Nghé, Quận 1, Thành Phố Hồ Chí Minh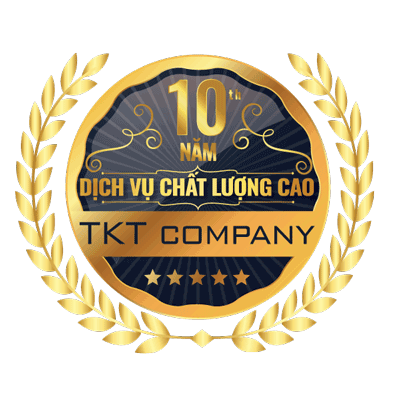 Website:
https://tktcarpet.com/
Nguồn: Công ty giặt thảm TKT Carpet